SYRO MALABAR CATHOLIC CHURCH, CHENNAI
The Chennai Syro Malabar Mission was established in 1983 and it was entrusted to Mar James Pazhayattil, the Bishop of Irinjalakuda by the Syro Malabar Bishop's Conference. This Mission is founded on the teaching of ll Vatican Council that every individual Sui Juris churches should maintain their cultural and ecclesial identity as well as the liturgical and spiritual patrimony. Therefore the first and important task of this mission is to look after the pastoral needs of the Syro Malabar Catholics in Chennai. Rev. Fr. Jose Palatty was appointed as the first Chaplain by Most Rev. Dr. R. Arulappa, the then Archbishop of Madras - Mylapore on14th December 1983. Eventually more priests and religious were deputed for the pastoral ministry in the mission, subject to the jurisdictional facility in the limits of the Archdiocese of Madras - Mylapore and the diocese of Chingleput and Vellore.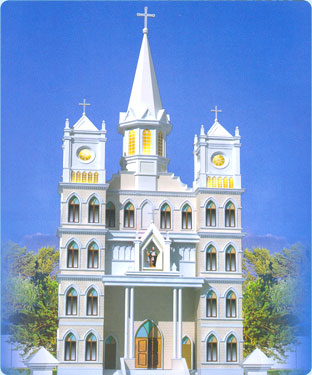 Now there are ten personal parishes and another 23 regular Sunday Mass Centers. At present there are around 5000 families in this mission in a span of 150km. 27 priests and above 100 sisters support this mission through their spiritual and pastoral leadership. The mission has already constructed 13 churches. St. Thomas Pastoral Centre at Ayanavaram co-ordinates all programmes of the Syro Malabar Church in Chennai. There are 4 religious houses for men and 13 religious houses for sisters. Reverend Fathers and Sisters run 6 Matriculation Schools, 2 Nursery Schools, 2 Special Schools, 1 Cancer Hospice, 1 Clinic, 2 Hostels, 2 Aged Homes and 2 Retreat centers.
Co-ordinating Centre
ST.THOMAS PASTORAL CENTRE
16, Ayanavaram Road, Chennai- 600 023
Ph: 044-26443803, 26444183, 94444 42846
E-mail:
vicar@stthomaschurchayanavaram.com
Web:
www.stthomaschurchayanavaram.com/
Rev. Dr. Msgr. Jose Irimpan